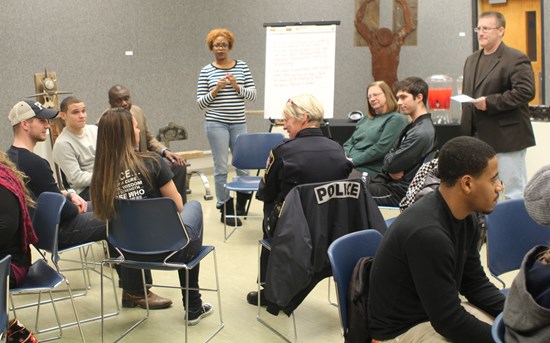 Crime rates are continually increasing gradually in this district. Historically, district 84 has been plagued with crime and conflict between police and the community. As an Assembly Member, I promises to work alongside with local prosecutors and police officers to make sure law is executed appropriately, and to ensure my constituents are safe 24/7. A current idea and solution is to allocate local state funding to increase security surveillance in all housing developments and allowing all ongoing activity to be monitored throughout neighborhoods. Furthermore, being apart of progressive actions to help reduce crime by advocating for more community policing as a way to patch relationship between law enforcement and the community citizens here in district 84.
     Another pledge is to promote the actions and cause of local non-profits who help create pathways for the youth and give them a better direction in life. One organization who deserves much praise is the Community Connections for Youth, whose mission is to whose mission is to empower grassroots faith and neighborhood organizations to develop effective community driven alternatives to incarceration for youth. By partnering with them and other law enforcement agencies in the South Bronx, we can build ensure better opportunities for youth in our community and reduce potential crime rates in the future.
     Here in the South Bronx, we need more equality and fairness of all treated in court. I intend to work with local judges in the community to make sure we can provide a alternative for petty crime and alleviate minor infractions, specifically against our children. On to many occasions, many citizens are subject to unjust prison sentencing and are filling up state for-profit prisons where their basic rights are stripped away. As your Assemblyman, pledge to hold the assembly accountable and work to legislate a internal audit on private prisons and inspect potential wrongdoings that violate inmate rights. Here is what I plan on tackling while in the assembly.
Public Legal Funding- In order to ensure every New Yorker has justice on their side, we must fight for each and every one of them! Working middle class and low income families should always have access to an attorney in a case where they cannot afford one. With my bill, it will provide legal services funding for each county in New York State. These monies will specifically be used for public attorneys in districts that are extremely understaffed. Its essential that as your assembly member, Bronx county citizens and many New Yorkers are represented fairly and can STAND UP against power interests in the state! 
Civil Asset Forfeiture- Civil asset forfeiture is a major problem in this country. The idea that law enforcement can seized your private property and money for personal use of investigation is ridiculous! Recent news show that in 2014, New York as recent as 2014 had the highest property seized per capita in the nation. In 2016, Upstate New York police has seized over 8.5 million in assets for various investigation reasons. Many New Yorkers had suffered from unwarranted events which led to much of their personal money being kept by police.